The Road Your Donations Takes: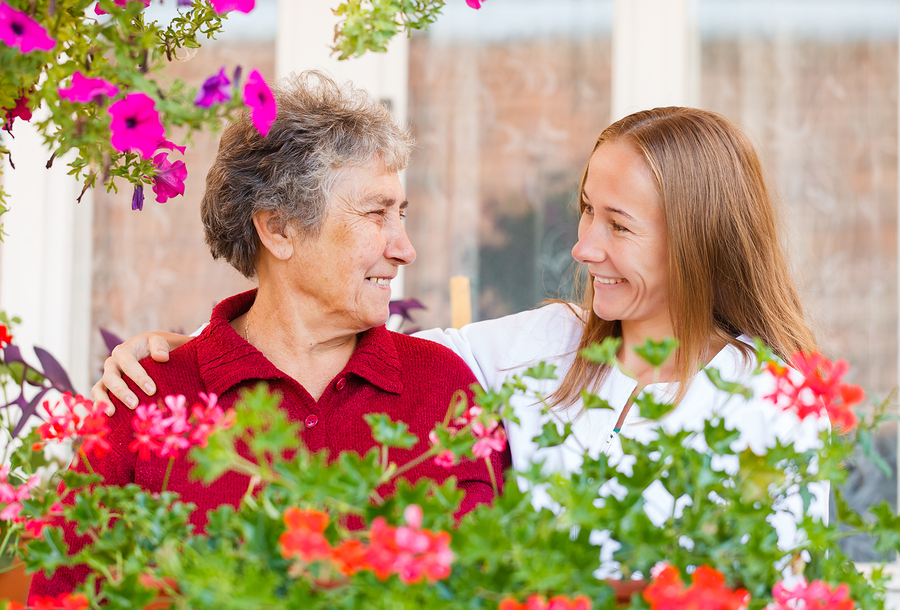 We are ongoing contributors to Northwoods Partners of Ely.
Over the years we have donated several thousand dollars to support their different programs and events. In addition to directly underwriting specific community outreach programs, our gifts to Northwoods Partners help fuel their own fund raising efforts - creating a 'loaves and fishes' phenomenon...gifts that keep on giving. Our Foundation has: Sponsored speakers for their annual Elder Expos - paid for educational sessions with staff at the hospital and clinic, funded a Northwoods Memory Care Program module, contributed to their Caregiver Support programs. We have also created gift baskets and wreaths to be used in their silent auctions, raffles, and as door prizes for their annual theme dinners.
We are honored to be considered a 'fund-raising arm' of Northwoods Partners.
As of 2018 our Foundation has committed to donate $1500 quarterly to Northwoods Partners for their caregiver programs.
Dear Spiritwood Foundation:
Your generous donations are allowing us to offer more life-changing programs for Ely area seniors than ever before! please accept our HEARTFELT GRATITUDE for your gift to Northwoods Partners.
With your wonderful support, we will continue to spark positive change in the lives of so many in our community.
God Bless,
Lisa Porthan, Director
We make a living by what we get, but we make a life by what we give - Winston Churchill
---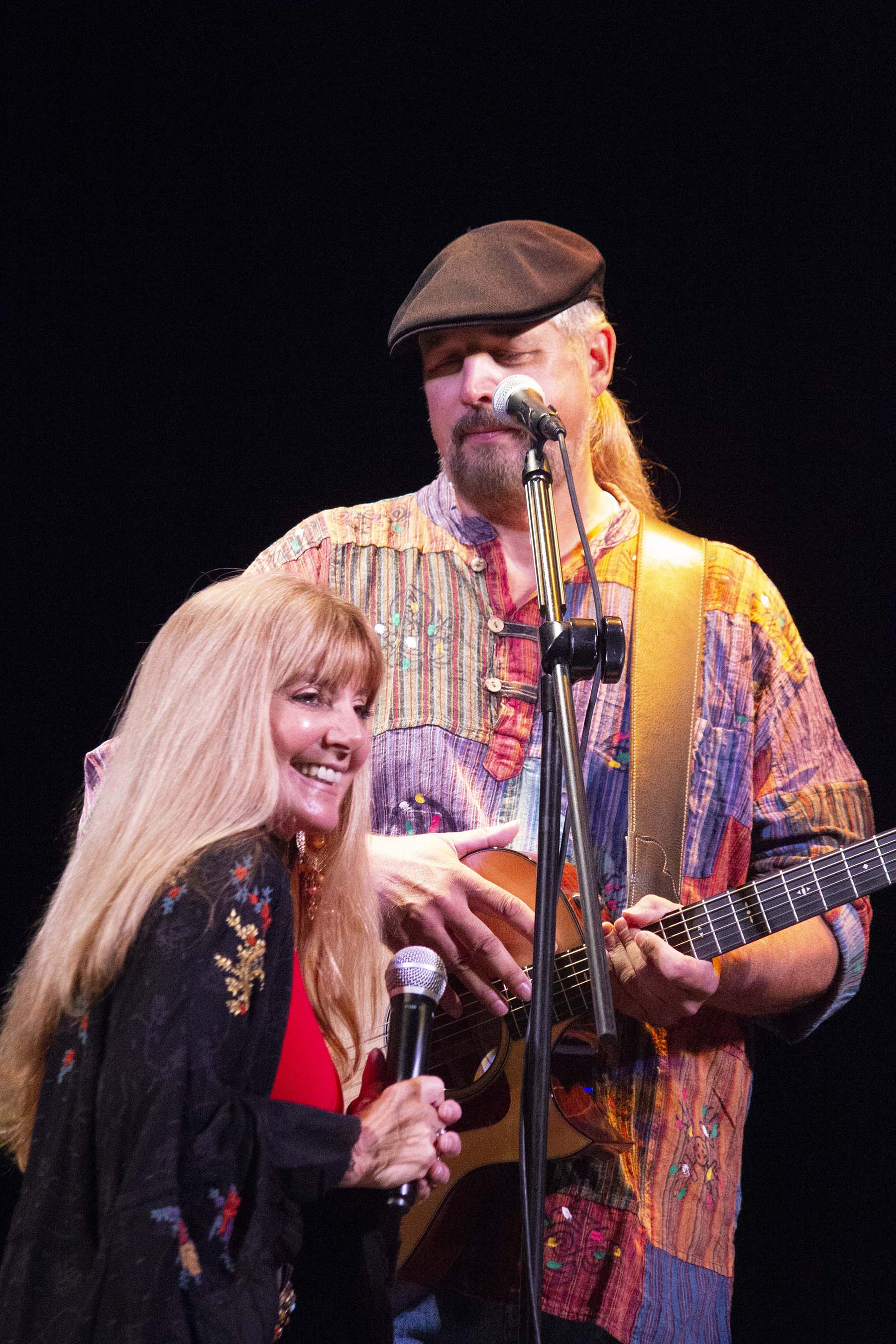 Remember When Magical Musical Happening
Written by Pat and Donna Surface, this is an entertaining whirlwind that is so much fun you forget the serious cause it benefits. Audiences are treated to a trip back in time not only in sound but visually. In our first show, an unprecedented cosmic event occurs and music is magically transported in time and space - and so are you. Bam! You are with Moonbeam in her WGRV (GROOVE Radio) dj booth in the 60s, then wham! You are back to the future with Pat and his band. In the 2018 version of the Remember When Musical, Moonbeam is now a 1970s TV star - with her all new dance/music show Moonbeam's American Top 40 - once again featuring the songs of the 60s and 70s, dynamic videos, hippie flower children, special effects and more. The show benefits the Spiritwood Foundation.
In 2018 we performed a sequel to Remember When - Moonbeam's American Top 40...also raising funds for the Foundation. In this new show Moonbeam is now a TV star hosting a music/variety show. Check out some cool photos here.
---
Minnesota Veterans Homes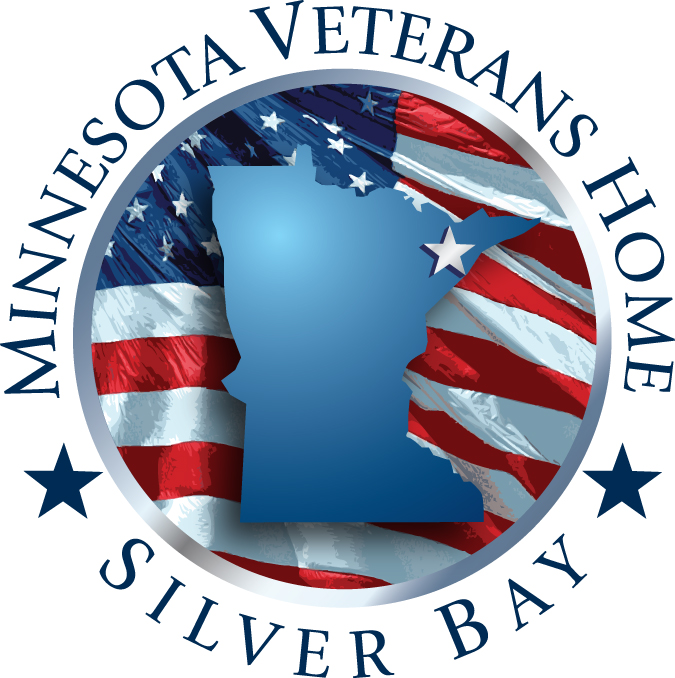 The Spiritwood Foundation is proud to be supporters of the Minnesota Veterans Homes and their programs for Vets and families. In 2018 the Foundation sponsored Minnesota Veterans Home Silver Bay's Summer Concert Series, with the main event being Jult 17th featuring Pat Surface and the Boundary Water Boys.
We have now committed to sponsoring their Summer Concert Series each year. In 2019 the Boundary Water Boys again performed for the veterans, staff, families, and community at Silver Bay on July 16th. Below is a link to some photos of last year's event. During the afternoon, Pat and Donna with Marina Whight and the Boundary Water Boys toured the Memory Care wings and performed acoustically for the residents - and then at the main event in the evening. Minnesota Veterans Home Photos
Pat and Donna are performed at the Veterans Home in Fergus Falls in 2019.
Our Foundation has donated funds to Minnesota Veterans Home Fergus Falls for their annual activities (more than 250 a year)
We have donated the funds to fix the hoist equipment at Veterans On The Lake in Ely that enables wheelchair-bound Vets to board the boats.
We have donated funds to Minnesota Veterans Home Minneapolis for their fishing and riverboat outings.
---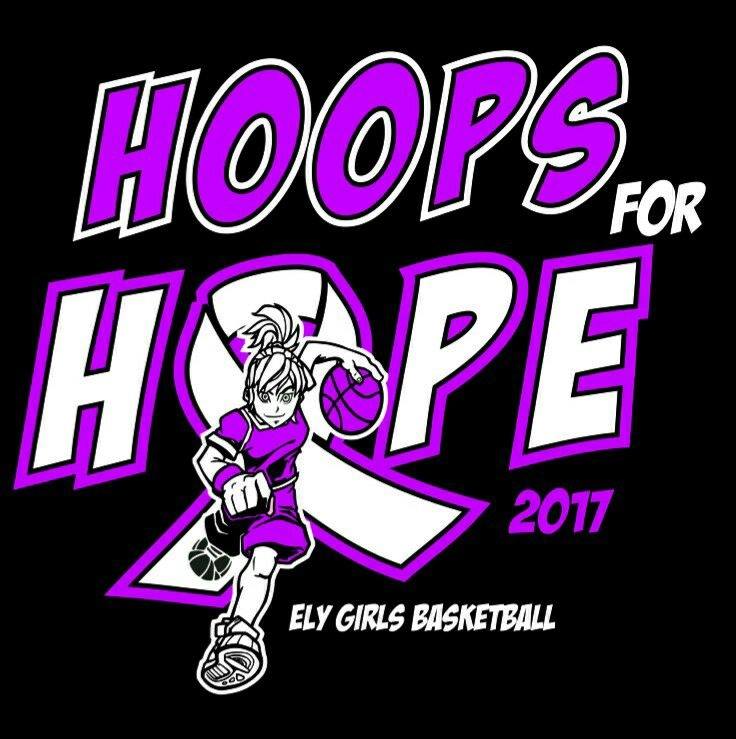 The Incredible Alzheimer's Hoops for Hope Basketball Tournament.
In December, 2014, The Ely Timberwolves Girl's Basketball Team held their first annual Hoops For Hope Basketball Tournament. They decided to donate 100% of what they raised to the Spiritwood Foundation - $3313.00!. We, in turn, gifted the entire amount to Northwoods Partners for their Powerful Tools for Caregivers class - a 6-week educational series designed to help unpaid family caregivers take care of themselves while caring for a relative or family friend. It gives caregivers the tools to: help reduce stress - communicate effectively with other family members, doctors, and paid help - take care of themselves, reduce guilt, anger, depression - and help them relax, make tough decisions, set goals, and problem-solve. Because of our gift there was no cost to the caregivers participating in the class. It also covered the cost of the books for each participant, and all other printed materials.
The Spiritwood 'Forget Me Not' Foundation of Ely wishes to thank the Ely Timberwolves Girl's Basketball team for again donating all of the proceeds from their December 2017 and 2018 Hoops For Hope tournament to our Foundation. At the 4th annual tournament they raised $2,018. 64 and in 2018 they raised $2687.00!. Each year, dating back to their 1st Annual Hoops For Hope Tournament in 2014, they have donated all the money they raise to our Foundation. Our Foundation in turn gifts those funds to other non-profit organizations dealing with Alzheimer's and Dementia to support their programs. These organizations include Northwoods Partners of Ely, and the Minnesota Veterans Homes.
Go Timberwolves!
---
WELY Alzheimer's Radio Show hosted by Donna Surface
A special show featured on Donna's popular local radio program, Remember When, centered on Alzheimer's Disease. With poignant songs by Pat Surface, this show also featured tributes by celebrities and friends, along with stories and remembrances of Donna's dad.
Listen to Donna's Alzheimer's show here:
---
Our Minnesota Memory Care Tour
Pat and Donna Surface, (sometimes joined by other Spiritwood musicians), perform at assisted-living facilities, nursing homes, and senior residences in Minnesota - bringing uplifting music and Performance Signing to residents, their families, and staff. They call it the Memory Care Tour. Pat and Donna donate their time and sound equipment, and the Foundation pays the gas.
Pat and Donna are again hitting the road in 2019 for another Memory Care Tour - visiting facilities around the state and performing for residents and their families.
Click here for more on the Minnesota Memory Care Tours
---
---
Our Sensational Sheet Sales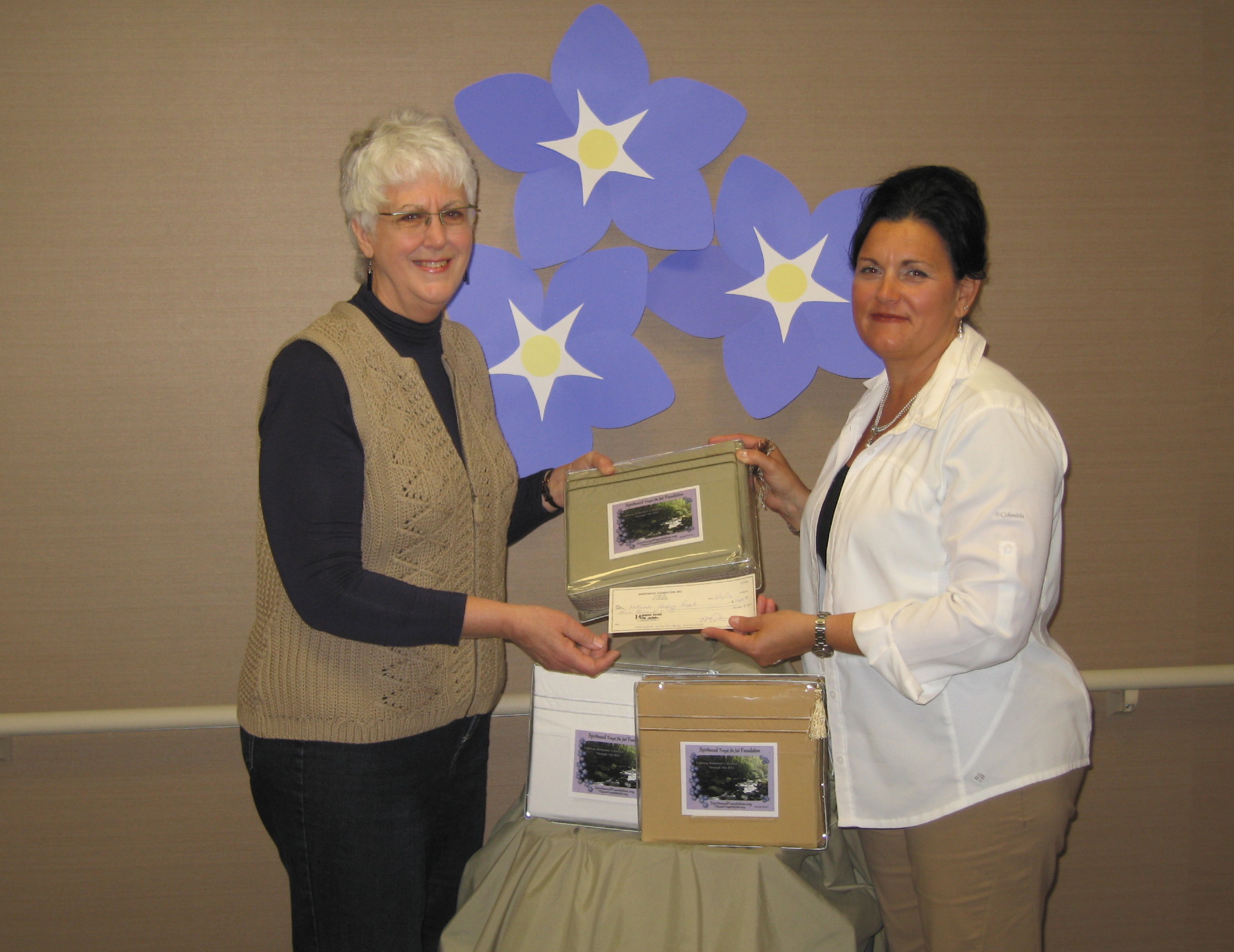 Since 2010, the Spiritwood Foundation has had a booth at both Blueberry Arts Festival and Harvest Moon Festival in Ely. We have raised thousands of dollars from the sale of our sensational sheets that feel like silk. These sheets are so popular they provide a large portion of the money that we gift - including $3000 to Northwoods Partners.
Visit us at our Foundation booth at the Blueberry Arts Festival the last weekend of July and see what all the fuss is about!
Our Chairman, Sheri Dochat, presenting a $3000 check to Lisa Porthan, Executive Director of Northwoods Partner
---
The Rocco Michael Passaretti Grant Program
We award grants to non-profits working with Alzheimer's & Dementia.
---
Benefit for Michael and Joyce Gallo and their Battle with Alzheimer's Disease
"Remember When" - Songs of the 60s and 70s & Silent Auction.
It was held at Minnesota State University Moorhead - Comstock Memorial Union Ballroom - Saturday, October 4, 2014.
A Night of Caring for Michael and Joyce Gallo - it began with a Silent Auction followed by a concert by Pat and Donna Surface This event was sponsored by the Spiritwood "Forget Me Not" Foundation. Pat and Donna donated their time and sound equipment. Every dime that was raised went directly to pay for caregiver support for Michael and Joyce Gallo. We were able to gift nearly $8000.
---
Art & Jewelry Auction and Benefit Concert in Florida
Pat and Donna traveled to Stuart, Florida and together with Diamonds By Terry of Stuart staged an elegant and magical evening - transforming the Diamonds by Terry's parking lot into a chic open-air bistro complete with gourmet food and champagne. The event featured an auction of world-class original art donated by renowned artists such as Joe LaPierre, and beautiful diamond-studded jewelry donated by Diamonds By Terry. Pat and Donna performed a concert joined by local musicians. The place was packed, and generosity flowed like the champagne.
The event was co-sponsored by the Spiritwood Foundation and Diamonds By Terry. Pat and Donna donated their time and sound equipment. 100% of the proceeds went to the Alzheimer's Association for research, and the Spiritwood Foundation for caregivers. Several thousand dollars was raised.
---
Raffle Fundraiser - Blueberry Festival 2009, Harvest Moon 2009, Tuesday Nite Live 2009.
Lots of art work, services, and more were donated and we had a great time with these raffles. We raised money for non-profit organizations that supply home-care assistance to families who want to keep afflicted loved-ones at home, and for non-profit assisted-living and nursing homes for upgrades (like gazebos for residents).
---
JC Hormel Alzheimer's Awareness Concert - Thanks For The Memories
In August 2014 Pat and Donna (along with the Boundary Water Boys) traveled to Austin MN for a special fund-raising event presented by the JC Hormel Nature Center. The proceeds were split between the Alzheimer's Association for research, and the Spiritwood Foundation for caregiver assistance.
---
Gifts That Give 2014
An annual event held at Grace Lutheran Church that offers area non-profit organizations a venue to sell items for holiday gift-giving, with the monies raised going to support their individual organizations.
---
St. Anthony Christmas Boutique 2014
An annual event held in October that offers craft and gift items for sale and a soup luncheon served by the Youth Group, along with a raffle for items donated by participating vendors. We sold items there to raise money to donate.
---
There are many other fund-raisers that Pat and Donna and the Foundation have participated (and continue to participate) in.
Additional fun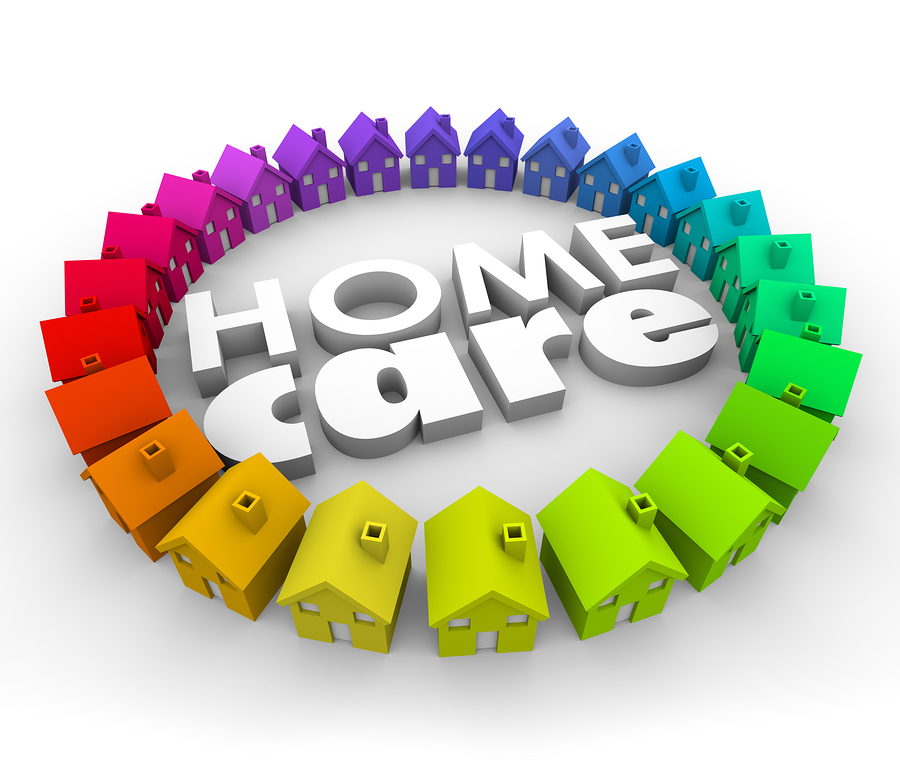 ds have been donated to and then flowed through the Foundation back into the Ely community and others.
We always ear-mark a portion of funds raised for caregiver assistance. There is no place like home.