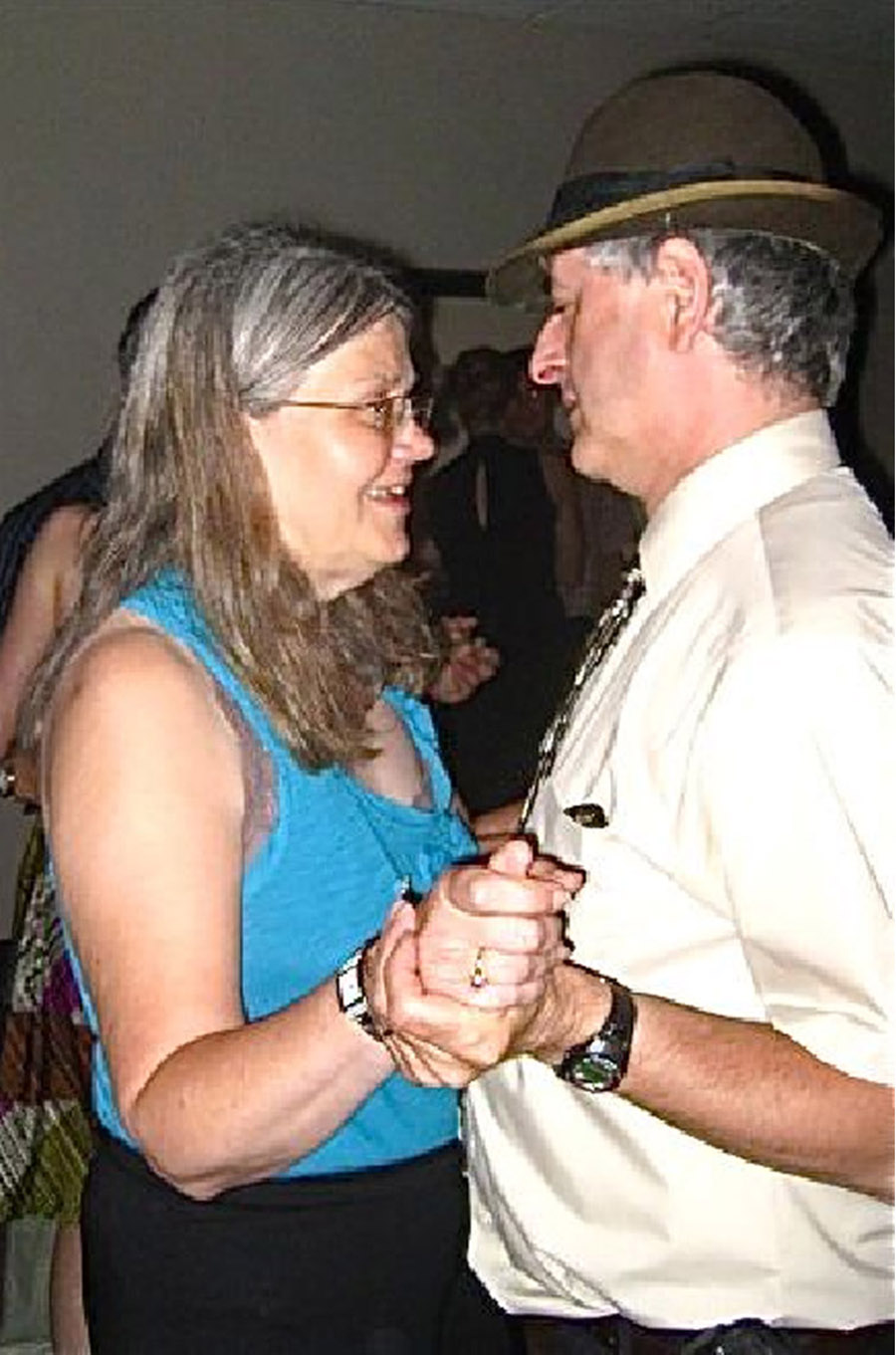 Joyce began to show symptoms of Alzheimer's 's disease in 2006. Since then Michael lovingly assumed the role of caregiver until it just became impossible. For years Michael tried to balance his full-time teaching schedule with taking care of Joyce in their home. He was determined to keep her there - through challenges at work, 24/7 commitments, and mounting expenses. His latest heart-breaking accounts of their journey are below.
For nearly 30 years Michael and Joyce have positively affected the Fargo-Moorhead community. From 1983 to 2006, Michael expertly and caringly taught at the preschool and in the teacher education department on the Moorhead campus. His professional presentations at local, state, regional, and national conferences were well received with many local children remembering his talents as a story teller. He currently teaches at the University of North Dakota.
Joyce sewed thousands of puppets for their company, Joy Toys/Second Street Puppets. Joyce's puppets were so special - so happy and creative. And Michael was brilliant with them - a university professor with a vital inner-child - bringing delight to countless children with his puppet shows.
The Gallo's have owned a home in Moorhead for nearly 30 years while raising their three children: Mandy, Bron, and Nikka.
Over the years, the Spiritwood Foundation has donated money to help with Michael and Joyce's struggle. In October, 2014, Pat and Donna Surface did a benefit concert sponsored by the Foundation that raised $8000 toward Joyce's care.
---
2013
It had been sitting silent and sullen for too long, gathering dust and occupying space. This weekend however, it roared back to life, not missing a beat as it brought comfort and convenience to our stuffy, overheated apartment. Like a harbinger of things to come our air conditioner hums contentedly to itself, reminding me that the official opening of summer is mere days away. Outside, the residents of our fair city have been busy for weeks mowing and manicuring lawns, trimming hedges, and adorning their property with flowers of every hue, shape and size. Though winter was reluctant to vacate the northern plains, and spring was forced expedite her work, summer is upon us with the arrival on Friday of the longest day of the year.
This Father's Day my beloved awoke for the first time not knowing who I was. Eyes wide with fear, and confusion she struggled to emerge from the depths of sleep and shake the cobwebs from a mind already mired in the quicksand of Alzheimer's. Even words escaped her and only slowly surfaced as if being plucked delicately from the depths of a fathomless pool… "Where…?" Joyce's breathing grows more erratic, as if she has forgotten how to work her lungs… "Who…wh…why…?" She clutches the sheets, drawing them closer. Calling forth my best smile and swallowing my own fear I welcome her to the new day, "Good morning my love. It's a beautiful day in the neighborhood!" I summon my inner Mr. Rodgers while praying this will quickly pass.
The lights are flicked on and I pull back the curtains to reveal a splendid Sunday morning. She takes in her surroundings again, blinks rapidly and the fog of sleep slowly retreats. "Oh that light is so bright!" She gazes at me and recognition brightens her face. "Getting up?" It is a question laced with disappointment. Her eyes take in her surroundings again and a scowl darkens her appearance, as a frown wrinkles her brow. "I want to go HOME! Why can't we go home to MY house!" Turning to hide my disappointment I gather some clothes and steel myself for the next battle. "This is our home my love. This is our bedroom, see the pictures of our children and your dresser sits in the corner." Like a toddler in the midst of a rant she shakes her head violently, jabbing an index finger my way. "No…no… THIS is your… your not MINE! I want my HOME. Why can't we… go." It is a script repeated countless times, in countless settings, and I struggle to recover those skills a father might practice when calming his distressed child.
Through cajoling, hugging, distracting (thanks to our feline companions Tasha and Mimi), and a fair amount of prayer we weather the storm. She is still stiff with sleep and contaminated with the venom of Early Onset of Alzheimer's as I lead my beloved into the bathroom, gather towels and shampoo to face the next clash… the shower. Once upon a time, in a galaxy far, far away taking a shower with my love was an experience entirely different. Now however, there often is nothing pleasant or sensual, or appealing to showering with someone ravaged by dementia. First challenge is entering the tub, stepping over the edge without toppling over. Then there is the shocking sensation of the flow of water striking by body in multiple places all at once. Of course the temperature is never consistent. Compensating for the damaged portions of her neural network it seems other senses have become hyper-sensitive, in this case it is her sensitivity to temperature. As with a father washing his young child I work to cleanse my beloved's body while soothing her spirit. It can be a quick and somewhat calm experience or more likely one laced with tears, screams, and sputtered curses (well pretty tame considering the source) issued my way. But the ordeal ends, she is left to stand shivering and wrapped in a "Mark-Towel," a wonderfully oversized and comfy towel provided via my sister-in-law, while I reenter the shower for a quick turn at cleaning up.
The adventure continues with drying off and being told repeatedly that this was NOT a very good idea and it has ruined a very nice morning. Unwilling to put a shirt on until her hair is dried I must approach her with the dreaded hair dryer. This instrument of drying and styling is loud, hot, and requires me to draw upon a skill not usually in my repertoire, hair stylist. Inevitably I scrape her ears with the comb or brush, pull on a tangle too hard, have the heat up too high scorching her skin, while leaving another area area too wet. Not having ever studied at a beautician school these are all valid complaints. However, there have been a few times when we've managed to break into hysterics when I channel André the gay hairdresser… hey desperate times call for desperate measures.
The final sequence is this ordeal is dressing, something my love insists that she is perfectly capable of doing herself, thank you very much! However, left to her own devices she has managed to successfully get her shoes on, sometimes even on the correct feet, while sitting naked on the bed. Thus begins the challenge of dressing my beloved while keeping her dignity intact and maintaining that wonderful independent, stubborn, and determined aspect of her personality that we all know and love. Like a prizefighter circling his opponent seeking an opening I approach her with a shirt or blouse. Inserting her arms into those pesky sleeves is the greatest challenge, especially when her arms are stiff and uncooperative. Undies and pants are easier since once her feet find the holes she can sometimes be cajoled into pulling them up herself… often firmly reminding me that, "I do know how to put my own pants on. Good Heavens!" Amazing how sometimes her verbal skills can be so succinct while at other times she struggles for the correct label for shoe, sock, or other common items.
… And the day continues from there. Daily events that can take the average person a minimum of time and effort to complete, even while half-asleep can take significantly more time, effort, and energy to accomplish… and only with the assistance of others. Please understand that interwoven within this fabric of frustration, pain, and confusion are threads of joy, tenderness, wonder, and discovery. Joyce retains that amazing awareness and appreciation of the simple beauties and gifts that surround us. We may stop and observe ants obliviously determined in their own missions. Or we have stopped in our tracks to become engrossed in a honey-bee gathering nectar in a stand of lilac bushes. Joyce has walked for blocks proudly clutching a few feathers, convinced she has found the most exquisite treasure available.
NO ONE should endure the nightmare of a disease that ravages the mind, crushes the spirit, and compromises the body. We don't just need a cure, we need legislation to support the caregivers, we need an enlightened public to be more empathetic to their neighbors, coworkers, and relatives caught in the mire of Alzheimer's and dementia related diseases.
PLEASE help. Make a donation, or additional donation, spread the word, contact your legislature, and embrace life, NEVER take loved ones for granted, and know that the statement, "I'll never forget you!" is never that same once you've encountered Alzheimer's. My gratitude for taking the time to read this lengthy message.
---
2014
Today is 31 years since I married my beloved. So much has passed, so many joys and sorrows, struggles and victories, memories sweet and bitter. No one can honestly say that after 31 years your partner and mate is the same person you married. The sands of time, and seas of life have their way with mind, body, and soul. Yet it is can be said that through the years the bonds of love and matrimony can grow stronger. So I claim today. Yet… for the last 8 years of this union I have watched my beloved die a thousand times; witnessed not only her deterioration of mind, body, and spirit but also the very nature of our matrimony has been twisted, stretched, distorted, shattered. Sometimes I lay in the deserted wasteland of my bed and wonder how one can be so alone when living with the partner and mate of 31 years? Some marriages are choked by the twisted vines of jealousy and mistrust, or whither in a drought of affection and understanding, or even drown in a smothering torrent of devotion and attention. Alzheimer's is akin to the ancient Chinese torture of death by 1,000 cuts as I slowly watch one I love disintegrate in every way imaginable. For me a nagging question is not will I ever love again for that is the nature of my heart and mind, but will I ever be loved again? Perhaps after this exhausting journey on the path of the Long Goodbye with Joyce it matters not. But I shall not desert, abandon, or cease loving my wife of 31 years though for her our history and escapades together have been effectively erased by this evil we name Alzheimer's.
---
Monday was a very rough day for Joyce as she was pretty agitated and restless. While with her caregiver she fell and received a black eye as a result. I was called home at 1:00 after her caregiver had no more options. Things seemed to improve a little but Thursday went south again. Friday morning, at approx 8:30 I drove my beloved to the Altru ER after her continued struggles with anxiety, aggression, and striking out at others. She was incredibly calm while driving in the car, if only we could spend 24/7 there touring the town and listening to Christmas music. Yeah right, who's delusional now Gallo! We were immediately ushered back to a station where she was processed, her vitals taken, well the ones she would let them do, and then escorted back to a holding room where they can do medical procedures. Once there she continued to be agitated, pacing, pacing, pacing like a trapped animal seeking escape. The nurse/doctor gave her a shot of something and it had minimal effect. At one point it took 5 people to draw blood from her.
After giving Joyce another shot of something that was not meant to "knock her out" just calm her, Joyce soon feel into a deep sleep which she remained in from about 9:30 AM – 3:00 PM when she was finally admitted and transferred to the psych ward where she has resided ever since. I briefly saw a social worker at 4:15 before she went off duty. It was a brief conversation where I was given more paperwork to fill out and told they would be in-touch with me Monday regarding placement and Joyce's condition. It is Tuesday night and no one has contacted me back… surprise surprise!
I visited Joyce around 2 PM Saturday after being told she slept most of the morning but they did get her up for lunch. Joyce was very agitated, walked part of the way to the visiting room but then had to be wheeled the rest of the way… which she was NOT happy about. Still shows that fierce, determination and will of a tigress. I brought some grapes, watermelon, an a cut up brownie. After a few successful bites she continued accepting food into the mouth but just chewed and chewed then the food would dribble out the sides of her mouth. We hung out for maybe 1.5 hours and then she needed to go back into the ward. Sunday when I visited around the same time Joyce was much "calmer" she slept most of the time, otherwise staring ahead slack-jawed and vacant, mumbling occasionally to herself. I brought a DVD of the Radio City Music Hall Rockets 75th Anniversary Christmas show. Has music, dancing, children, ho-ho-hoing, etc. Joyce did react to it at first, "YUCK! No not…(mumble mumble)." And then she fell back asleep. After watching the show with her, I kept trying to engage her in conversation.
Monday morning we had music therapy at the hospital in one of the visiting rooms. The girls came prepared and sang and played their instruments. Joyce slept and snored through the entire session… with the exception of when I sang our love song to her: I love you a bushel and a peck. At that point she sat up, eyes popped open and she looked at me saying clearly, "Oh shut up!" she then tried to knock her tray of food off the table and went back to sleep. SOOOOOOO…. Guess we know what she thinks of MY singing! :D Better not quit my day job just quite yet! Talked with the psych doctor who assured me that they were trying to give Joyce less meds more often to avoid "knocking her out" but sometimes she gets agitated and they need to give her a larger dose.
Today when I called Joyce was again agitated and so upset that her blood pressure had skyrocketed and her heart rate was up. I've been in the schools all day and then have advising meeting into the late afternoon. However, I hope to find time to call Hospice and find out how to get them involved. Joyce's psych nurse thought it was "too early to call them in, we are still working to stabilize her." However, I can see death looking over my beloved's shoulder and he is getting eager. Joyce is forgetting to swallow, needs a wheelchair more often, her eyes are darker and sunken back in her sockets. Her entire posture is shrunken and constantly listing to one side like a ship taking on water. We are all living and dying at the same time, marching toward the eventual demise. However, in the case of my beloved the balance of life and death has shifted and, unless I am severely mistaken and blinded by grief, death is outpacing life as she slides down the other end of her life journey.
So that's the basic update. Sorry it is so long. Hope you are finding stars in your night time sky and sunshine to warm your days. There are always silver linings and right now I have Mount Everest for grading to accomplish so there is NO lack of things to do that will divert my attention and fill the empty void.
I continue to count my blessings and express my gratitude to the Creator for the loving support and encouragement of dear family and friends like you. My cup runneth over!
The Circle of Life touches all our lives… as one life nears completion another prepares to enter into the world. Our second granddaughter just came into the world.
Be well. Laugh often. Play fair/play hard.
Thank you for all your support and prayers,
Love you guys,
Michael
---
October 5, 2014
Dear Pat, Donna, and Spiritwood Forget Me Not Foundation,
How do I express my gratitude for the incredible benefit event that you sponsored for Joyce and me? I had no idea how much money was raised and paid little heed to the bidding and money jars, etc. for I was filling up my tank with the amazing outpouring of love and support your event offered me. The venue was wonderful - open and inviting - and the treats were just right. The music and signing and jokes brought me right back to your concerts in Ely, Bemidji, Phelps Mill, the State Fair and more. The distance you traveled to do this - the work and effort to set up the music, speakers, screens, audio/visual and then break it all down again! I wish I could have helped out more.
I will remember this day and event and outpouring of love as long as my memory stays intact. Thank you is the best prayer that anyone can say - it expresses extreme gratitude, humility, understanding.
Thank you, Pat and Donna and Spiritwood Foundation. God bless and keep you. Keep on doing this vital and crucial work to support caregivers, and bring music into the lives of those walking the Long Goodbye.
With gratitude and love,
Michael and Joyce