Remember When - A Magical Musical Happening - Our groovy hit show!
BACK BY POPULAR DEMAND! ALL NEW SHOW! Moonbeam's American Top 40
2 Shows Only - Friday August 17th and Saturday August 18th, 2018. Tickets available here soon.
Or call Donna - 218-365-6851
WATCH THE GROOVY VIDEO BELOW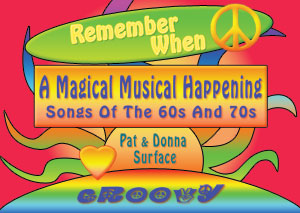 A Multi-Media Extravaganza
It's a magical night when an unprecedented cosmic event lets music travel through time and space - back in time and back to the future
Incorporating dynamic videos that take you back in time
Award-Winning and Iconic
Fresh presentations of popular songs of the 60s & 70s
Featuring Pat and Donna Surface with core members of their award-winning back-up musicians
Dynamic Community Involvement
Showcasing your local talent from theater, orchestra, dance, adult and children's choral groups
Musical arrangements by renowned composer, Dr. James Grant
Overture to exciting opening video - chart available for Piano 4 Hands by Dr. Grant - 2 pianists - 1 piano!
Band charts by 2-time Grammy Award-winner, John Ely
This show gets the audience involved.
Here are some of the options:
Audience is encouraged to come dressed as hippies - and prizes will be awarded for the coolest outfit
Local radio and TV celebrities will judge the outfits and present the prizes during intermission
The 'show' actually begins outside the theater - immediately creating a 'happening' atmosphere
Hippie Flower Children greet audience with flowers and love beads
Performers outside the theater portray both sides of the 60's sentiment: hippies carry signs that say 'Make Love Not War,' 'Peace,' town folk (like 'church ladies') protest the show with disdain and carry signs that say 'Down With Hippies' and 'Love Is NOT Free!'
Tailored to Your Venue
No venue too small - no venue too big - this show is limited only by the size and budget of your venue
The featured performers can include just Pat and Donna, or up to a 9 piece band, with limitless community volunteer involvement
A Special Fun-Raising Event supporting the Spiritwood 'Forget Me Not' Foundation and the fight against Alzheimer's Disease
---
View the promotional video below
---
"Remember When" was a huge hit! Our audience loved hearing their favorite songs from the 60's and 70's. Pat Surface's voice is rich and beautiful, and the entire show is woven with great songs, excellent musicians and fun doses of humor to make for a wonderful musical journey.
~ Amy Stoller Stearns - Executive Director, Historic Holmes Theatre
---
For additional info, available dates, and booking call: 218-365-6851 or email us at This email address is being protected from spambots. You need JavaScript enabled to view it.